Symphony for a Broken Orchestra Breathes New Life Into More Than 800 Damaged Instruments
Composer David Lang with wounded instruments featured in his "Symphony for a Broken Orchestra."
Capture.world
Evlena Shermaine Pinder, musician
De'Wayne Drummond, musician
Audience members and musicians will gather at the 23rd Street Armory in Philadelphia on December 3rd for a novel experience. Around 400 performers will play a symphony on broken basses, flutes, clarinets, autoharps, violins and cellos.
The "Symphony for a Broken Orchestra" will live for a day, but impart renewed life to the instruments, which will be repaired and returned to children in the Philadelphia public schools.
The symphony is a musical stop on the journey of the broken instruments before they reach their repair destinations.
Pulitzer- and Grammy-winning composer David Lang has created this ephemeral piece, written in both prose and music notation. Jayce Ogren of Philadelphia's Orchestra 2001 will conduct it. Its changing sounds will migrate through sections made up of many, including Mummers, parents and children, jazz and classical artists, members of The Philadelphia Orchestra, and students from Temple's Boyer College of Music and Dance, and The Curtis Institute of Music.
A wounded instrument might be considered a leveler of musical prowess, but, says Lang, the real leveler was "the notion that everyone should be doing this together and that in doing it, everyone should be equal." His written instructions allow them to do the same thing.
David Lang studied music in elementary, junior, and high school. He says he's a musician because there was music in the public schools. Having music in the community is something that makes the community better.
And so, says Lang, "I wanted everyone in the community to play these instruments. So you have this incredible range of musicians. You have people from the Philadelphia Orchestra and you have school children just starting out."
The story behind "Symphony for a Broken Orchestra" is a tale built around a mission to do good and further the social function of art. It involves academic, governmental, philanthropic, and neighborhood organizations, and professionals and volunteers coming together for a very large-scale project to enable more Philadelphia public school students to experience music.
Act One – How Did It Start?
In 2013, the Philadelphia School District closed two dozen schools across the city; schools already struggling to hang on to music and arts education. The District moved all the desks and the file cabinets to the closed Edward W. Bok Technical High School in South Philadelphia. Rob Blackson is the Director of Exhibitions and Public Programs at Temple Contemporary, the art gallery at Temple University imbued with a social action mission. Blackson toured the shuttered school, which had basically become a warehouse.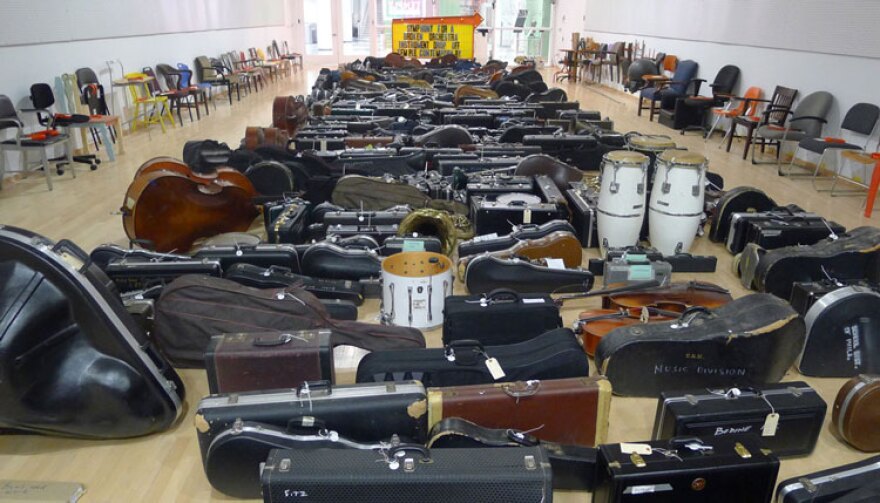 "On the tour" says Blackson, "we were led into a dusty gymnasium. As we walked in, we noticed it was full of broken pianos. That was the tip of the iceberg for me." The gym of broken pianos was just a subset of a larger problem. There were hundreds of broken instruments throughout the district.
The story behind Symphony for a Broken Orchestra is a tale built around a mission to do good and further the social function of art.
Those broken instruments had remained on shelves, in closets, and stacked in corners; relics of the district's dramatically decreased funding for instrumental music programs. Blackson came up with the broken orchestra initiative to renew and then return mangle trombones and more to the students.
Act Two – The Project Takes Off
Banking on a breakthrough in funding, "these wonderful teachers had been stockpiling their broken instruments for years," explains Blackson. Their hope was that one day they'd be able to have their instruments fixed "and get them back in the hands of the kids who desperately want to play them."
The teachers were invited to drop off their broken instruments at Temple in June 2016. They came, carrying cellos, trumpets, autoharps and more in their trunks and their passenger seats; over 800 instruments were collected in a single day and more have been added since. The sound of each of them was recorded. They were cataloged. Composer David Lang, a co-founder of the ensemble Bang on a Can, drew from these recordings to compose his symphony.
Now, amateur and professional musicians from the city and beyond will play them in two performances this coming Sunday. Tickets were free, but all the seats have been taken. It's been a group effort, with the music scene in Philadelphia working to coordinate it.
MD_DF_171130_BrokeOrch2.mp3
Robert Blackson explains the story behind the trombone that used to be on display in the office of Temple University President Richard Englert. It will be played by Alex Volgelson.
Alex Vogelsong, a vocalist, percussionist, and bassist will play the trombone in Lang's symphony. She says her "strangled trombone," pictured above, spoke to her, both personally and in a wider sense. Vogelsong's own voice is sometimes silenced by injury and upon seeing the trombone for the first time she "felt an instant recognition." She says the trombone and the broken instruments symbolize all the voices muted by underfunding.
Act Three – What's Next?
After the performance, the real work will begin. Instruments that can be fixed will be sent to repair shops across the region. Those that are irreparable will be replaced. Music teachers will receive training and tool kits to enable them to make minor repairs.
In the fall of 2018, the instruments will be back in the hands of students: tangible evidence of a renewed chance for advancing music education in the School District of Philadelphia.
Act Four – What's Ongoing?
Composer David Lang says that his "Symphony for a Broken Orchestra" is more than the moment where you intersect with the music at a concert. He wanted his piece to take advantage of the whole ecosystem of how a piece of music works: who plays it, where it is played, what instruments it is played on and what happens after it is over. His musical stop on the journey of the broken instruments is a station before they reached their repair destinations. Their journey will continue in the hands of the students.
Frank Machos, the director of the School District of Philadelphia's Office of Arts and Academic Enrichment, says the district has been re-evaluating how to set the stage for better instrumental instruction, and music education in general. Exposing the youngest students to violins and brass instruments made of plastic are two possibilities.
The district is also looking into how to enable its music teachers to reach more children. This year 66 music teachers travel among more than 180 schools. A budget of $50,000 is earmarked for instrumental repair, replacement, and supplies like reeds and neck straps. Sufficient funding is on ongoing challenge.
Broken Orchestra fundraising began several years ago and continues. The Pew Center for Arts and Heritage and The Barra Foundation have provided major support. An "Adopt an Instrument" program through Temple Contemporary is adding more. The school district's own fundraising nonprofit, The Fund for the School District of Philadelphia, hopes to increase private donations with a redesigned website and options that enable private donors to give directly to schools for very specific needs, musical and otherwise.