June Jazz Picks from ICON Magazine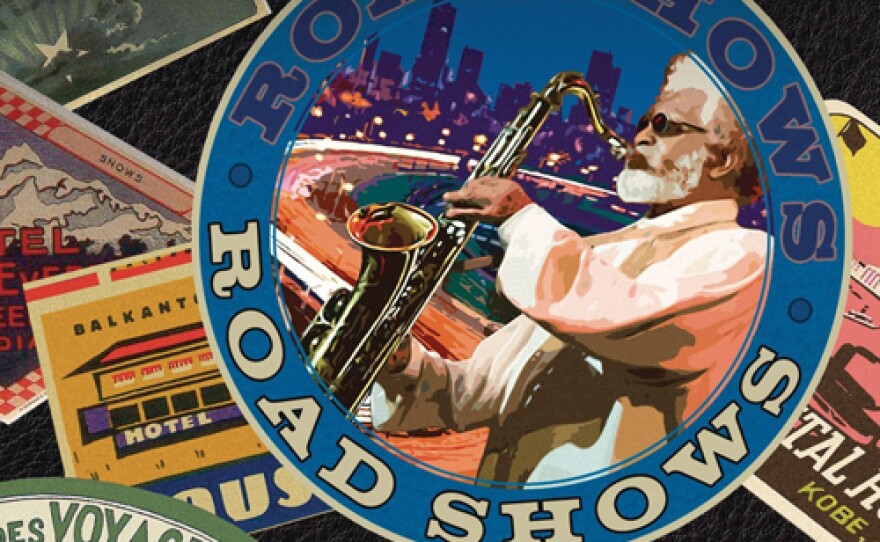 Here's Nick Bewsey from ICON Magazine with a bunch of great jazz CDs to tell you about.
Sonny Rollins: Road Shows, Volume 3 - They say Sonny Rollins still practices three hours a day, and I wouldn't doubt the stamina of this jazz nobleman who, at 83, continues to perform at sold-out concert halls all over the world. He still plays faster and with more finesse than players half his age. If you've been fortunate enough to see Rollins in concert, you've experienced that charismatic energy radiate from the stage. A live setting puts his legendary reputation in context.

For the last decade, he's been remiss to produce a studio recording for a reason common to all great artists: there's nothing comparable to playing to an audience. For Sonny Rollins, the rewards that flow from listeners far outweigh the concern that you or your band will hiccup on stage. As fans, we appreciate the 21st-century Rollins, ushered in with his This Is What I Do (2000, Milestone) and continuing a golden age with Road Shows, a documentation of collected live performances. RS, Volume 1 (Emarcy, 2008) was a breathtaking selection spanning shows over a 27-year period, while RS, Volume 2 (Emarcy, 2011) culled astonishing dates just from 2010. Both volumes give us some of the most satisfying recorded music of Rollins' career and the best music he's made since the defining, heady days of the late '50s and early '60s with Saxophone Colossus (1956), Bags Groove (1957) and The Bridge (1962).
http://youtu.be/Rymmf4Z1aIQ

Road Shows, Volume 3 offers revelatory music from Rollins. In addition to being the most important recording released so far on the recently revived Okeh Record label under the Sony Masterworks umbrella, this collection gathers tunes from Rollins' post-2000 concerts, four from various shows in France, another from St. Louis, and one from Japan. With each successive volume of Road Shows, there's a strong argument that every one is good enough for "best of the year" status and Volume 3 achieves that by offering up the most expressive jazz I've heard this year.
The sheer joy that comes from mixing melody, rhythm, harmonics, of performing—it's all there on the opening track, "Biji,"recorded in November 2001 in Japan. You'll recall this is after the events on 9/11, an event that Rollins witnessed from his home in downtown Manhattan. For Rollins, the music seems to represent hope that triumphs over despair. At the outset of the theme, Rollins' tenor and Clifton Anderson's trombone sing in unison with an alternating key change that Rollins makes for emphasis. It's a rollicking tune with a groove and a sharp kick that goes from a stunning turn by pianist Stephen Scott's solo to something greater as Rollins rolls out his own astonishing solo in a blizzard of notes played as fast as you can hear them.
http://youtu.be/j51LNTYZcWI
Guitarist Bobby Broom possesses bluesy chops on the 3/4 time swing of Noel Coward's "Someday I'll Find You," a delicious standard that Rollins first recorded in 1958 on Freedom Jazz Suite and here turns it into a tone poem that he fills with rounded notes and unabashed romanticism. His tenor sound is plainly beautiful with an elongated solo that renders every bit of happy emotion from the tune. Bassist Bob Cranshaw and drummer Victor Lewis hold down the rhythm section with equal passion. At the song's conclusion, you're swept along with the audience and their soaring applause as if you were there.
The Afro-Caribbean beats and bass that hold down the groove on Rollins' "Patanjali" lift the saxophonist's playing to soaring heights with feverish contributions from guitarist Peter Bernstein, bassist Cranshaw and a ferocious Kobie Watkins on drums with Sammy Figueroa on percussion.
The 22 minute-long exploration of "Why Was I Born," one of the most identifiable tunes in Rollins' repertoire, is spring loaded with another variation on a pulsating groove, in part supplied by drummer Steve Jordan and percussionist Kimati Dinizulu. Cranshaw's elastic bass is like a rubber ball that bounces out and richochets off the walls. Combined, the rhythm team's blissful bounce is contagious and Rollins is in high spirits throughout—it's a long tune where every minute can be savored.
It's a fact that a Rollins concert is incomplete without a calypso, a song form that Rollins has owned forever and "Don't Stop The Carnival" serves as a fitting encore for this exemplary recording. Undoubtedly, Sonny Rollins is a jazz master of exceptional fortitude and endless invention and the superior Road Shows, Volume 3 is likely my desert-island disc for 2014.

Clovis Nicolas: Nine Stories - A Provence-raised Frenchman who graduated in philosophy before becoming a jazz musician, bassist Clovis Nicolas reestablished himself as a busy sideman in Paris before moving to New York in 2002. The expat enrolled at Juilliard to study with bassists Ron Carter and Ben Wolfe, hit the scene playing gigs with guitarist Peter Bernstein and saxophonist Harry Allen, and later with Brad Mehldau, Branford Marsalis and Dee Dee Bridgewater.
That experience pays dividends on Nicolas' debut recording, Nine Stories, an immensely appealing date with a tight, swinging sextet of up-and-coming players. Nicolas has obviously learned that listening is the most important quality a jazz musician can have. While listening to his five in-the-tradition originals and the reworking of four classic tunes, I hear a leader whose perceptive playing is part of the overall sound of the band rather than a cat overemphasizing his bass above everyone else in the mix. That discipline is Nicolas' strong suit and his arrangements reveal a thoughtful musician at ease with mixing classic jazz sounds with modern contours.
Every tune has its own flavor and story to tell, but the standouts include "Pisces," a foot-tapping original with a fleet frontline and signature Blue Note style, and Sonny Rollin's "The Bridge," a tune tagged with a wonderfully tuneful bass solo. Clovis makes good use of counterpoint (the horns and guitar on "Tom's Number," named for Tom Harrell) and creates a robust melody for his horns on "Mothers and Fathers" and provides trumpeter Riley Mulherkar and pianist Tadataka Unno with their best solos.
http://youtu.be/2zNPXWC2c4o
Of particular merit, Nicolas has found something new to say on the standards "You And The Night And The Music" and "Sweet Lorraine." Like his teacher, Ron Carter—who apparently took a shine to his student and contributed the album's liner notes—Nicolas makes each of these stories his own. The former is built over a fast tempo with a sparkling piano solo and a groove that Nicolas gets tight and right while the closer is a duo piece arranged for bass and guitar featuring guitarist Alex Wintz. It's an impressive coda for an album that properly introduces Clovis as a powerful new voice on bass.
Margie Baker: Margie Baker Sings With So Many Stars - It's easy to understand why Dr. Margie Baker is a Bay Area institution. She resonates authenticity and sturdy chops with a voice that has a gritty charm, no doubt informed by her 80 years of experience that included mentoring by Dizzy Gillespie. Notably, she didn't start singing professionally until she was 39 while managing a career as a San Francisco educator, administrator, and pursuing her PhD. Dr. Baker's fourth recording, Margie Baker Sings With So Many Stars is a stout two-CD set of jazz and pop standards from back in the day. It's as fine an introduction to this song stylist as it could be, supported with West Coast musicians and produced by Gillespie's longtime pianist and jazz recording artist Mike Longo.
In terms of style, Baker gets under the skin of tunes like "Deed I Do" and "In A Mellow Tone" much like Etta Jones did. Baker swings where it counts and underscores ballads like "You've Changed" with a knowing sensitivity. There's much to like with her renditions of these twenty songs—"Round Midnight" is a particularly effective track with a sublime reading by Baker and finger-poppin solo by guitarist Rodney Jones. There's a lot of feeling on this date, obviously from Baker's warm articulation and empathetic supporting musicians. It's a bit of a party, too, with a couple of Sergio Mendes tunes on tap. Baker and her musicians outpace the quirky sound of the recording, plus the added strings here and there sound a little dated, but it's overcome by Baker's ascendant readings and glorious personality that beams on every track.
Harold Mabern: Right on Time
Pianist Harold Mabern's Right On Time is an exuberant trio disc recorded live at Smoke Jazz and Supper Club on Manhattan's Upper West Side, one of four exceptional debut releases from the club's new label documenting their live shows. The initial offerings include albums by saxophonists Vincent Herring (The Uptown Shuffle), Javon Jackson (Expression) and pianist David Hazeltine (For All We Know), each of which capture that quintessential New York jazz club experience. Smoke owners and producers Frank Christopher and Paul Stache couldn't have picked a finer talent than Harold Mabern to include in the launch of their venture.
Mabern's rangy sound is instantly recognizable. It's big and pronounced and his signature motifs flow throughout his songs. His effusive solos gallop at a swift tempo, bundling notes that he skips down the keyboard. It makes for exhilarating music. Like many post-bop mainstream pianists, he rose up in the late 50s and recorded frequently as a solo artist and sideman (Hank Mobley's 1965 Blue Note album, Dippin', is a great example of Mabern's style and artistry), and currently it's as if he's been discovered all over again as a member of saxophonist Eric Alexander's band and his own solo projects, particularly the distinctive Mr. Lucky (High Note, 2012), Mabern's tribute to Sammy Davis, Jr.
http://youtu.be/m8S5TCPL-70
Right On Time is the perfect album title. Mabern, bassist John Webber and drummer Joe Farnsworth swing with panache on tracks like "Dance With Me" and "Seven Steps To Heaven," two tunes that give Mabern plenty of space to play with time signatures and his customary soulful groove. A rollicking, blues-drenched "Don't Get Around Much Anymore" and "To You," a florid ballad by Thad Jones, show both sides of Mabern's capacity to communicate his deep love of melody and swing. But the last four tracks, when heard from start to finish, give us the best evidence of Mabern's gifts as a jazz pianist. "Charade," "Blues For Frank n' Paul n' All," "The Nearness Of You" and "Cherokee" have wonderfully creative arrangements and their own momentum led by Mabern's melodic and rhythmic intensity. Of the many solo recordings I have heard, Right On Time could be Mabern's best and makes it the right time to acquaint yourself with his monster talent.
http://youtu.be/1CkPB5GcvGw
This article is from the June 2014 edition of ICON Magazine, the only publication in the Greater Delaware Valley and beyond solely devoted to coverage of music, fine and performing arts, pop culture, and entertainment. More Information.