Jazz Fall Preview 2022: Renewal and reinvention in a lively season
"Season of mists and mellow fruitfulness," wrote John Keats in To Autumn, an ode that toasts the harvest plenitude of fall even as it rues the waning light of summer. Not to be precious about it, but we know what the guy means. The weeks ahead are completely stacked with can't-miss events and noteworthy albums from artists working in the jazz tradition — some on the fast track, and others finally receiving their due.
In a first-time collaboration, WRTI and WBGO have created this Fall Preview to cover the field, in a range of sounds and styles. We can't claim to be comprehensive: even with some 70 picks, there's only so much we could do. And this rundown doesn't include some important as-yet-unannounced events, like the reopening of The Boot & Saddle on South Broad Street in Philadelphia, under the auspices of Ars Nova Workshop.
Stay tuned for more on that and other news. Meanwhile, what we've gathered here should keep you as busy as the robin that "whistles from a garden-croft," per the old Romantic poet, while "gathering swallows twitter in the skies." — Nate Chinen, WRTI
(Also see: our Classical Fall Preview)
Bruce Barth Trio
Bruce Barth, who teaches at Temple University, is himself an earnest and dedicated student of the music. The pianist's understated manner has kept him a secret in plain view for decades. Look no further than Dedication, a collection of original material shaped for his trio with bassist Vicente Archer and drummer Montez Coleman, whose recent, untimely death partly inspires the album's title. There are also bright tributes to McCoy Tyner and Tommy Flanagan, whose lyricism Barth imbues throughout the session. Don't miss his gift for melody on "Softly, In a Garden Path" and the achingly beautiful "In Memoriam," for George Floyd. Sept. 16. Origin Records. Barth performs at Clement's Place, with Archer and drummer Adam Cruz, on Sept. 30. (Josh Jackson)
Terri Lyne Carrington
In her work as an artist and an advocate, most visibly at the Berklee Institute of Jazz and Gender Justice, Terri Lyne Carrington has pushed toward parity in a system overdue for a reckoning. Her New Standards: 101 Lead Sheets By Women Composers will publish on Sept. 15, and a companion album, new STANDARDS vol. 1, releases on Candid on Sept. 16. The album's all-star cast includes pianist Kris Davis, bassist Linda May Han Oh and trumpeter Nicholas Payton (with an array of special guests); among its highlights are pieces by Abbey Lincoln, Anat Cohen and Brandee Younger. (Nate Chinen)
Jon Irabagon
Having long ago demonstrated an uncommon ease with code-switching between the straight ahead and the avant-garde, saxophonist Jon Irabagon has rendered the distinction all but meaningless in his work as a solo artist. Rising Sun puts him in the distinguished company of longtime fellow travelers: pianist Matt Mitchell, bassist Chris Lightcap and drummer Dan Weiss (along with trumpeter Adam O'Farrill and guitarist Miles Okazaki as guests, each on a couple of tracks). Sept. 16. Irabbagast. (Chinen)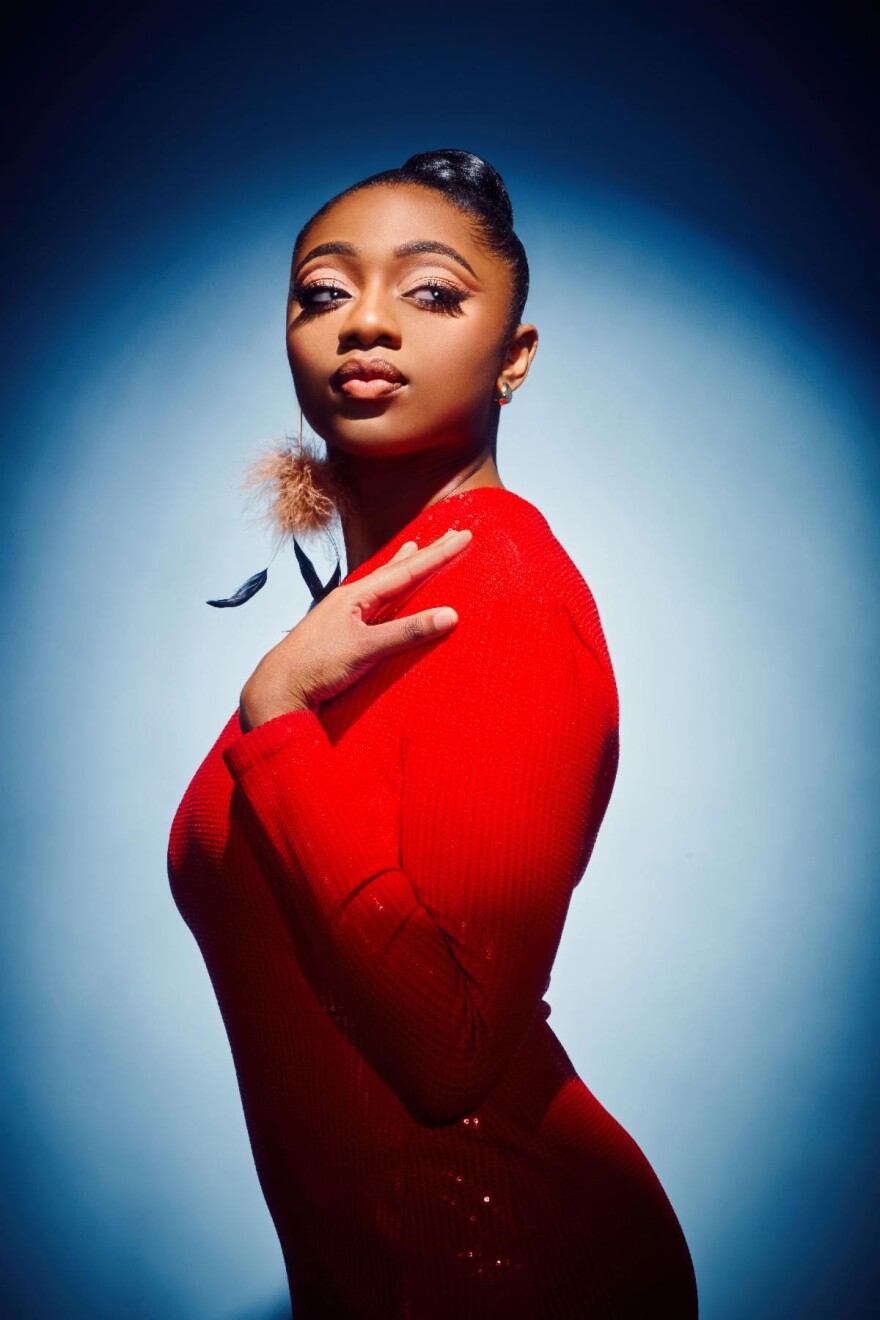 Samara Joy
Hailing from the Bronx with family roots in Philly, Gen Z jazz sensation Samara Joy holds true to her name. At 22, she balances youthful exuberance with an old soul — a winning combination both at the 2019 Sarah Vaughan International Vocal Competition and, more recently, on TikTok. Her major-label debut, Linger Awhile, features guitarist Pasquale Grasso with pianist Ben Paterson, bassist David Wong and drummer Kenny Washington, among others. Joy's strikingly warm vocal timbre, keen phrasing, and superb song selection shine on tracks like "I'm Confessin," "Can't Get Out Of This Mood," and "'Round Midnight," with special guest Terrell Stafford on trumpet. Sept. 16. Verve. (Monifa Brown)
Grace Kelly
If you've kept an eye on her social media feeds, you're well aware of Grace Kelly's evolution from precocious saxophone technician to something like a one-woman meme machine. Her forthcoming album, All That I Need, due out on Nov. 18, promises to nudge her further into pop vocal territory, both frisky and crusading; she's sure to bring some of that energy on tour. Sept. 16 and 17 at South Jazz Kitchen, Oct. 14 at (Le) Poisson Rouge. (Chinen)
Julian Lage, View With A Room
Having established a trademark of rugged refinement with bassist Jorge Roeder and drummer David King, his partners in a working trio, Julian Lage decided to bring in a second guitarist on View With a Room. Rather than more firepower, what he sought was lyrical grace and harmonic intuition – elements perfectly suited to the inimitable gifts of Bill Frisell. The result is a marvel of cooperative intention, and the most satisfying outing of Lage's stellar career. Sept. 16. Blue Note. Performing at World Cafe Live on Dec. 1, and Webster Hall (with The Bad Plus) on Dec. 2. (Chinen)
Ingrid Laubrock | Tom Rainey
Partners in music as in marriage, saxophonist Ingrid Laubrock and drummer Tom Rainey have established an improvisational shorthand that thrives in any ensemble setting. It takes center stage when they work as a duo, which has happened a lot in the pandemic era. Counterfeit Mars is a series of compositional forms – raw-edged or delicate, by turns – that they worked out through playing together. Sept. 16. Relative Pitch. (Chinen)
James Brandon Lewis
Tenor saxophonist James Brandon Lewis released not one but two excellent albums last year: the critically acclaimed Jesup Wagon and the less heralded but equally vital Code of Being. The latter features a robust quartet with Aruán Ortiz on piano, Brad Jones on bass and Chad Taylor on drums. Their first-ever live performance of this music — long deferred by pandemic restrictions, and charged with a spirit of release — will soon be available as MSM Molecular Systematic Music - Live. Sept. 16. Intakt. (Chinen)
Jack DeJohnette and Friends
At 80, Jack DeJohnette still has a credible claim to the title "World's Greatest Drummer," and he's far from resting on his laurels. Earlier this year he made a powerful impression on new music by his old friend Wadada Leo Smith and a newer acquaintance, Ethan Iverson. This fall he'll connect with several other kindred spirits, in three concerts at the Woodstock Playhouse in the Hudson Valley, co-presented by ShapeShifter Plus and the Bardavon. First up is a duet with his fellow percussive genius, tap dancer Savion Glover (Sept. 17); then comes an all-star trio with bassist Dave Holland and pianist Jason Moran (Oct. 29). The final convergence will feature electric bass whiz Matt Garrison and pianist-singer Jon Batiste (Dec. 15). (Chinen)
Pittsburgh Jazz Festival
The 'Burgh has always provided rhythmic steel, from Art Blakey to Jeff "Tain" Watts to current resident and Living Legacy recipient Roger Humphries. This year's Pittsburgh Jazz Festival highlights bassists Ron Carter, Stanley Clarke and Buster Williams with their bands. Catch a set from new talent Samara Joy, or hear modern sounds from drummer Nate Smith and saxophonist Melissa Aldana. Trumpeter Sean Jones leads a tribute to Donald Byrd and the Blackbyrds with sax legend Gary Bartz. And stay up late for the free jam sessions at the August Wilson African American Cultural Center with Orrin Evans and his Imani Records roster. Sept. 16-18. (Jackson)
Remembering Tomasz Stańko
Unlike so many brash trumpeters whose sound slices the air, Tomasz Stańko's unique style seeped into the listener's space, filling it with warbles and murmurs while his band deftly supported each nuance. The Polish jazz hero died in 2018; he'll be celebrated in an all-star concert featuring two masters of trumpet subtlety, Wadada Leo Smith and Ambrose Akinmusire. Among the other tribute-bearers: saxophonists Ravi Coltrane, Joe Lovano and Chris Potter, and pianists Craig Taborn, David Virelles and Marcin Wasilewski. Sept. 18. Roulette. (Martin Johnson)
Satoko Fujii
Piano improviser Satoko Fujii has always been prolific with her output – a point underscored by the fact that this concert, at the DiMenna Center in Midtown Manhattan, is being recorded for release as her 100th album. Featuring fellow adventurers like Wadada Leo Smith on trumpet, Ikue Mori on electronics, Chris Corsano on drums and Sara Schoenbeck on bassoon, the album will be available on Libra Records as Hyaku: One Hundred Dreams before the end of the year. Sept. 20. DiMenna Center. (Chinen)
Alex Acuña
Alex Acuña's spirited percussion playing comes from deep devotion, and has the power to energize any and all in his vicinity. His new album, Gifts, finds a dynamic ensemble in service to the music, leaving no stones unturned. (The feeling is so electric, one is left waiting for applause after the conclusion of certain tunes.) This band belongs on a concert stage, and will hopefully have opportunity to meet with enthusiastic audiences. Sept. 23. Le Coq. (Greg Bryant)
Bobby Broom
Although guitarist Bobby Broom sits comfortably in a trio with organ and drums, his new album, Keyed Up, adds piano and organ to the equation. The keyboardist is Justin Dillard, and his deep groove with bassist Dennis Carroll and drummer Kobie Watkins energizes Broom to soar even higher. Sept. 23. Steele Records. (Bryant)
The Comet Is Coming
Synthetic club rhythm meets visceral improv in the output of The Comet Is Coming, which made Hyper-Dimensional Expansion Beam, its third full-length album, at Peter Gabriel's Real World Studios. The band's three members — keyboardist Danalogue, drummer Betamax, and saxophonist Shabaka (as in Hutchings) — created this music straight out of lockdown, and you hear a spirit of exuberant release at every turn. Sept. 23. Impulse! Performing at Underground Arts in Philadelphia on Oct. 19, and the Bowery Ballroom in NY on Oct. 22. (Chinen)
Connie Han
An acoustic chamber-fusion album inspired by the Sumerian goddess of sex and war? Sounds like a job for Connie Han, a pianist and composer who, at 26, has proven her adroitness with a musical language established by Chick Corea. Secrets of Inanna features Han's twisty, tempestuous compositions for a group with Rich Perry on saxophone, John Patitucci on bass and her producer, Bill Wysaske, on drums. Sept. 23. Mack Avenue. (Chinen)
Charles Lloyd
Three was holy for Pythagoras and the numerical set, but for the ever-expanding sound quest of multi-reedist Charles Lloyd, there's nothing so finite and perfectly ordered. Trios: Ocean, the second of his "Trio of Trios" releases, puts him close to home in Santa Barbara's Lobero Theater in 2020, playing to no audience but eternal time; it's love in the time of Covid, with two scions of the musical lineage in pianist Gerald Clayton and guitarist Anthony Wilson. The album begins with the free-verse liturgical contemplation "Lonely One," followed by a Monk-ish dance, "Hagar of the Inuits." Lest you think Lloyd's new-age spiritualism gets a little too California, his retort comes with a fluted column from the blues pillar; "Jaramillo Blues" shakes the soul. Ocean is deep but never over your head. Sept. 23. Blue Note. (Jackson)
Makaya McCraven
Over the last five or six years, drummer Makaya McCraven has migrated from the enlightened margins of the modern-jazz mainstream to someplace near its pulsing center, while earning the sort of outside acclaim reserved for the hippest forms of crossover. In These Times is a reminder of McCraven's prowess as a producer and composer: a tapestry of compact, textured themes that swirl with intrigue, thanks to the egoless contributions of regular collaborators like harpist Brandee Younger, vibraphonist Joel Ross, guitarist Jeff Parker, and trumpeter Marquis Hill. Sept. 23. International Anthem/Nonesuch/XL. (Chinen)
Monterey Jazz Festival
The 65th edition of the Monterey Jazz Festival brings a familiar blend of classic and contemporary, on several stages at the Monterey County Fairgrounds. Highlights include Redman-Mehldau-McBride-Blade, fresh off the release of an EP, LongGone; the Next Generation Jazz Orchestra, directed by Gerald Clayton with special guest Christian Sands; and Reunion! Trio, consisting of guitarist Bruce Forman, bassist John Clayton and drummer Jeff Hamilton. Sept. 23-25. (Chinen)
Angelica Sanchez
Pianist Angelica Sanchez continues to hone a singular style alternately spiky and serene, full of challenging abstraction and rhapsodic bliss. On Sparkle Beings, she assembles two of her earliest collaborators, drummer Billy Hart and bassist Michael Formanek, and they dive in to redefine the familiar (Duke Ellington, Mary Lou Williams, Cecil Taylor) and make the new music sound canonical. Sept. 23. Sunnyside. (Johnson)
Steve Turre
Take a legendary trombonist like Steve Turre, who began his career playing with Rahsaan Roland Kirk, Woody Shaw and Art Blakey. Put him in a studio with talented young players like trumpeter Wallace Roney, Jr., pianist Isaiah J. Thompson, bassist Corcoran Holt, and his son, drummer Orion Turre. The result is the aptly titled Generations, Turre's latest on Smoke Sessions Records. The lightly Latin groove of "Good People," which features Roney's fluidity on flugelhorn, also features Turre's contemporaries, bassist Buster Williams and drummer Lenny White. A tune called "Flower Power" allows Turre his turn on conch shells, displaying his mastery of that unique instrument. He celebrated his birthday this week, and will take his sextet into Smoke Jazz Club on Sept. 14, before the album release on Sept. 23. (Brian Delp)
Exit Zero Jazz Festival
Ocean City was recently named Airbnb's most booked fall destination, but Cape May hopes to lure those off-season travelers further down the shore with the Exit Zero Jazz Festival. Its fall edition boasts a typically packed line-up anchored by saxophonist Joshua Redman, guitarist John Pizzarelli, and British vocalist Stacey Kent. Other highlights include two supergroups – Orrin Evans' All-Star Philly Jawn, and the soul-jazz congregation Something Else – as well as Gregory Porter, Angelique Kidjo, and Chief Adjuah (formerly known as Christian Scott). Sept. 29-Oct. 2. Cape May. (Shaun Brady)
The Bad Plus
After a second incarnation as a piano-bass-drums unit with Philly's own Orrin Evans, The Bad Plus reinvented itself yet again, this time as a foursome with Chris Speed on tenor saxophone and Ben Monder on guitar. It's a sonic overhaul — but not out of left field, for anyone familiar with the network of connections held by bassist Reid Anderson and drummer David King. On the new group's pointedly self-titled album, melodies both wistful and grand converge with a spirit of collective endeavor and a trademark eagerness to push the output into the red. Sept. 30. Edition. Performing at Webster Hall (with Julian Lage) on Dec. 2. (Chinen)
'Blue Note Re:imagined II'
As the second installment of a successful franchise, Blue Note Re:imagined II gets points out of the gate for conceptual savvy: its premise is that the vaunted Blue Note catalog has now been handed over to remixers from the ascendant UK scene, like Yazz Ahmed and Reuben James. In practice, the results range from the inessential (Parthenope's take on "Don't Know Why," the runaway Norah Jones smash) to the inspired (Theon Cross' gnarly take on Monk's "Epistrophy"). Sept. 30. Blue Note. (Chinen)
Andrew Cyrille, Elliott Sharp, Richard Teitelbaum
Master drummer Andrew Cyrille had a longstanding history with synthesizer and electronics artist Richard Teitelbaum, stretching back at least as far as the early 1980s. Evocation chronicles a fully improvised 2011 concert at Roulette, which paired the two wizards with a kindred spirit, guitarist Elliott Sharp. (The fact that Teitelbaum died in 2020 lends this release a bittersweet air.) Sept. 30. Infrequent Seams. (Chinen)
'Ex Machina'
The Orchestre National de Jazz and IRCAM — two French institutions committed to musical invention — team up for Ex Machina, a co-creation of the Orchestre's artistic director, Frédéric Maurin, and the American composer and saxophonist Steve Lehman. Rooted in the precepts of spectral music, a specialty of Lehman's, it will also feature two of his regular associates, trumpeter Jonathan Finlayson and vibraphonist Chris Dingman. Sept. 30. Roulette. (Chinen)
Keith Jarrett
For fans of pianist Keith Jarrett, the void left by his silence after suffering two strokes has been ameliorated in recent years by the release of archival material. Bordeaux Concert joins two previous recordings from his 2016 European tour, in Budapest and Munich. Pieces on the album, all created in the moment, range from dissonance to ordered melodicism; to folk blues — and, in "Part X," a jaunty polyphonic expression as stirring as it is impressive. Sept. 30. ECM. (Bryant)
Wynton Marsalis and the Jazz at Lincoln Center Orchestra
It's often said that jazz is a democratic form of music. That idea finds musical expression as the Jazz At Lincoln Center Orchestra with Wynton Marsalis kicks off its 35th season with the American premiere of "The Shanghai Suite." Composed by Marsalis and originally performed in Shanghai in 2019, this work examines the musical meditations of ancient and modern China. The program is inspired by its culture and set to the language of jazz rhythms. The addition of Chinese musicians enriches this experience. Sept. 30 and Oct. 1. Rose Theater. (Bob Craig)
William Parker
At 70, bassist and composer William Parker remains one of the most fertile creative minds on the modern jazz landscape. Sharing the title of Cisco Bradley's in-depth 2021 biography, Universal Tonality resurrects a far-reaching 2002 performance at the original home of New York venue Roulette. Typically for Parker, his 16-piece ensemble crosses generations and scenes, with a lineup including pianist Dave Burrell, drummer Gerald Cleaver, guitarist Joe Morris, violinist Billy Bang, and trombonist Grachan Moncur III. Sept. 30. Centering/AUM Fidelity. (Brady)
Snarky Puppy
By now it's generally understood that Snarky Puppy can be trusted to work any groove into a communal experience. Empire Central bears a series of dedications to mentors and other influences on the band during its formative years in Texas; among those musicians is R&B keyboard whiz Bernard Wright, who died tragically at 58 only months after the sessions, which capture his final recording. Sept 30. GroundUP Music. (Chinen)
Thumbscrew
The members of the collective trio Thumbscrew — bassist Michael Formanek, drummer Tomas Fujiwara and guitarist Mary Halvorson — have each released a stellar recording of their own in 2022. Now they celebrate their 10th anniversary as a unit with a seventh recording, Multicolored Midnight. As is often the case with trios of musicians who lead their own ensembles, Thumbscrew melds into a more intuitive unit with each new release, highlighting scintillating differences as well as insightful common ground. Sept. 30. Cuneiform. (Johnson)
Rempis / Reid / Abrams
Saxophonist Dave Rempis, cellist Tomeka Reid and bassist Joshua Abrams constitute more than a small compendium of next-level Chicago improvisers; they're also a working unit, with an acclaimed album, Ithra, to their name. Their follow-up, Allium, extends a group language of deep listening and patient development, in the grand tradition of experimental protocols from their fair city. Oct. 4. Aerophonic. (Chinen)
Anat Cohen
Brazilian music is far from a casual interest for the irrepressible clarinetist and composer Anat Cohen. Quartetinho, her forthcoming album, builds on a body of work she has made in the realms of forró, bossa nova and samba, this time with a cosmopolitan four-piece band: accordionist and pianist Vitor Gonçalves, bassist Tal Mashiach, and percussionist James Shipp. Oct. 7. Anzic. (Chinen)
Dave Douglas
A decade ago, trumpeter and composer Dave Douglas introduced a new quintet with an album of hymns and folk songs, titled Be Still. How fitting that he reconvenes that band — featuring Jon Irabagon on saxophones and alto clarinet, Matt Mitchell on piano, Linda May Han Oh on bass and Rudy Royston on drums — with a pair of albums titled Songs of Ascent, inspired by Psalms 120-134. Book 1 bears the subtitle Degrees; Book 2, Steps, will only be available to Greenleaf Music subscribers. (A pandemic twist: both albums were recorded remotely, with Douglas tracking his trumpet parts first.) Oct. 7. Greenleaf. (Chinen)
John Escreet
British pianist John Escreet is both virtuoso and chameleon, having worked with adventurous bandleaders from Antonio Sanchez to Amir ElSaffar to Tyshawn Sorey. On his own he's veered between Andrew Hill-inspired architectures and Cecil Taylor eruptions, dazzling electronica and angular funk fusions. Seismic Shift marks his debut fronting a "traditional" piano trio, though that descriptor hardly seems adequate when his partners are bassist Eric Revis and drummer Damion Reid, who share Escreet's gift for corralling bold dynamics and startling tonal leaps. Oct. 7. Whirlwind. (Brady)
Mark Guiliana
Drummer Mark Guiliana gracefully pivots between his acoustic Quartet and electric Beat Music, but usually keeps those wildly differing expressions for separate occasions, on the bandstand and in the recording studio. That's not the case, however, with the sound of listening (intentionally lower case), which harnesses the magic of both sides of his musical personality, with regular partners Jason Rigby on tenor saxophone, Chris Morrissey on bass, and Shai Maestro on piano. Oct. 7. Edition. (Sarah Geledi)
Bobby Watson
Alto saxophonist and composer Bobby Watson credits his father for instilling a love of family and music — and preaches the virtues of both on Back Home In Kansas City. Joined mostly by longtime collaborators, Watson draws inspiration from a fellow Kansan, Charlie Parker, on the album opener, paying additional homage to John Coltrane ("Dear Lord") and John Hicks ("Mind Wine"). There's also a reworking of the saxophonist's timeless gem "Our Love Remains," co-written with his wife, Pamela, and sung here by Carmen Lundy. Watson's effortlessly hard-swinging flow, tinged with gospel and the blues, has the power to stir up tears in one moment and have you jumping to your feet the next. Oct. 7. Smoke Sessions. (Brown)
Sun Ra Arkestra
The postmillennial Sun Ra-naissance, to coin an iffy phrase, rolls along with treasures old and new. First comes a new album from the Arkestra, still led by the indefatigable 98-year-old saxophonist Marshall Allen: Living Sky was recorded last year in Philadelphia, extending the ensemble's devotion to Sun Ra's legacy. Another facet of that legacy comes into focus in a covetable art book, Sun Ra: Art on Saturn, that assembles all the hand-designed record covers from the Saturn label, with essays by experts in the field. Living Sky is due on Oct. 7, Omni Sound. Sun Ra: Art on Saturn will be available from Fantagraphics on Nov. 7. (Chinen)
Chucho Valdés
The reigning elder of Afro-Cuban jazz just completed his turn as Artist in Residence at the Detroit Jazz Festival: a notable achievement, but also just a warm-up for what's up ahead. La Creación (The Creation) is a fusionesque suite in four movements, for big band, percussion and vocals; Valdés composed it as an exploration of the creation story, according to Santería traditions. He'll perform it across North America in the coming weeks, notably at the Paramount Theater in Oakland, Calif., via SFJAZZ (Sept. 22); at Jazz at Lincoln Center, on the cusp of his 81st birthday (Oct. 7-8), and at the Berklee Performing Arts Center in Boston (Oct. 14). (Chinen)
Alice & John: A Coltrane Festival
The epochal saxophonist and composer John Coltrane died in 1967. His widow, Alice Coltrane, a visionary harpist and pianist, dedicated her first album to his memory the following year. Alice & John: A Coltrane Festival puts the two artists back in dialogue, on an equal plane, with a spiritual feast of programming. Saxophonist Lakecia Benjamin, serving as Artistic Advisor for the series, will perform Alice's music as a live score for Pam Tanowitz Dance (Oct. 14-15), before drawing from her recent album Pursuance: The Coltranes (Oct. 16). Ravi Coltrane, who has served the legacies of both his parents, will explore their music with his quintet (Oct. 22). And harpist Brandee Younger will unpack Alice's landmark album Ptah the El Daoud, with her band (Oct. 23). Penn Live Arts. (Chinen)
Michael Blake
Since his emergence in the 1990s, saxophonist Michael Blake has made a subspecialty out of raucous groups with unconventional instrumentation. He continues that tradition on his high-spirited album Combobulate, part of the Renewal Collection at Newvelle Records: the band features Steven Bernstein on trumpet, Clark Gayton on trombone, Bob Stewart and Marcus Rojas on tubas, and Allan Mednard on drums. Oct. 14. Newvelle. (Chinen)
Owen Broder
Johnny Hodges was all about mood with Duke Ellington's band. Owen Broder is all about the alto saxophonist's legacy throughout Hodges Front and Center, Vol. 1, his bluesy and breezy new album. You'll hear songs from sessions that Rabbit (as Hodges was known) co-led with Gerry Mulligan and Clark Terry, among others. Broder plays alto and baritone saxophones in a quintet setting that includes trumpeter Riley Mulherker. As you'd hope and expect, hints of Hodges prevail. Oct. 14. Outside In Records. (Craig)
Louis Cole
Multi-instrumentalist and singer-songwriter Louis Cole's background is in jazz, but his aesthetic mirrors a kind of absurdist modern dance theater. On Quality Over Opinion, there are his trademark unhinged moments aplenty – but just when things get raucous, a gentler side emerges, with earnest melodies and gorgeous strings to back him. The 20-track outing features Cole's longtime creator-in-crime Genevieve Artadi, as well as an unexpected appearance by guitarist Kurt Rosenwinkel. Oct. 14. Brainfeeder. (Geledi)
Benjamin Lackner, Mathias Eick, Jérome Regard, Manu Katché
German-American pianist Benny Lackner has been steadily building his reputation both in Brooklyn and Berlin. Last Decade, his ruminative ECM Records debut, features Norwegian trumpeter Mathias Eick, French bassist Jérome Regard, and French-Ivorian drummer Manu Katché. Oct. 14. ECM. (Chinen)
BRIC Jazzfest
The eighth annual BRIC Jazzfest, co-curated by trumpeter Maurice Brown, gathers a starry array of talent in Downtown Brooklyn, with some organic R&B crossover. Among the artists featured over three nights: singer-songwriters Lizz Wright and José James (the latter delving into songs by Erykah Badu); keyboard wunderkinds Julius Rodriguez and Matthew Whitaker; tuba demolitionist Theon Cross; breakout Gen Z duo JD Beck & DOMi; and a new supergroup called HERA, led by saxophonist Chelsea Baratz. Oct. 20-22. BRIC House. (Chinen)
Tim Berne/Matt Mitchell
Saxophonist and composer Tim Berne has built a reputation for complex and gritty music — but five years ago, when Matt Mitchell, the pianist in Berne's superb band Snakeoil, released his solo interpretations of Berne's work, it revealed a new side, lush and gorgeous. Berne must have liked the angle; it showed on their 2020 duet recording Spiders. He and Mitchell maintain a mostly graceful vibe on One More, Please, a new recording of originals, plus one by the saxophonist's mentor, Julius Hemphill. Oct. 21. Intakt. (Johnson)
Duduka Da Fonseca & Quarteto Universal
Not every artist could live up to an album title as exclamatory as "Yes!!!" – but then, Brazilian-born drummer Duduka Da Fonseca has been melding jazz and Brazilian rhythms with celebratory vigor for more than half a century. Here he debuts a new quartet of his fellow transplant: pianist Helio Alves, guitarist Vinícius Gomes, and bassist Gili Lopes. Their lively outing takes a more straight-ahead approach to pieces by composers like Milton Nascimento and Hermeto Pascoal, relying on their shared heritage to imbue the tunes with Brazilian spirit. Oct. 21. Sunnyside. (Brady)
Whit Dickey
Drummer Whit Dickey's meditations on the energy and mathematics in John Coltrane's A Love Supreme and Crescent led him to a place of invention and camaraderie. His new quartet, which includes Brandon Lopez, Matthew Shipp and Tony Malaby, is incredibly inspiring in its recording debut, Root Perspectives. From the explosive "Supernova" to the reordering of "Starship Lotus," Dickey's band wields a power through fellowship that arrests and then focuses the listener. Oct. 21. TAO Forms. (Bryant)
Kerry Politzer
A pianist and composer based in Portland, OR, Kerry Politzer has developed a set of skills commensurate with an artist of much higher profile. It's possible that her seventh album, In a Heartbeat, will help in that regard. Inspired by the death of an aunt during the pandemic, it consists of original compositions for an ensemble that includes Thomas Barber on trumpet; Joe Manis on saxophones and flute; and Politzer's husband and fellow pianist, George Colligan, on drums. Oct. 21. Origin. (Chinen)
Doug Wamble
The blues wends its way through the vast variety of American music, and guitarist and vocalist Doug Wamble has followed its circuitous path to develop his own brand of cutting-edge Americana. Blues in the Present Tense is just that, a gnarled-roots avant-blues lament at the State of our harshly divided Union, featuring a stellar band with bassist Eric Revis, drummer Jeff "Tain" Watts, and saxophonist "Prometheus Jenkins" (alter ego of Branford Marsalis). Oct. 21. Halcyonic. (Brady)
Arild Andersen Group
Between his Norwegian roots and his five-decade history with ECM, it would be easy to tag bassist Arild Andersen as a purveyor of that famously airy, frigid "Nordic jazz" sound. While there are moments of stunning sparseness and evanescent beauty to be found in Affirmation, Andersen's new quartet of younger compatriots maintains a nervy energy and held-breath tension throughout the almost wholly improvised session. Oct. 28. ECM. (Brady)
Emmet Cohen
Pianist Emmet Cohen has an ability to unite people: as chronicled in a recent episode of Jazz Night in America, his pandemic livestream captivated millions, and his Master Legacy series underscored an urgent mission to cultivate intergenerational dialogue. Cohen's latest spark of inspiration — Uptown In Orbit, titled in tribute to Duke Ellington — illuminates his wide-reaching influences and penchant for exploration. The interstellar excursion joins him with bassist Russell Hall, drummer Kyle Poole, trumpeter Sean Jones, and saxophonist Patrick Bartley. Highlights with the quintet include the searing title track and the ballad "My Love Will Come Again." Oct. 28. Mack Avenue. (Brown)
Trevor Dunn's trio-convulsant
For listeners like myself, Trevor Dunn's trio-convulsant was the band that officially introduced guitarist Mary Halvorson, back in 2004. Séances – its long awaited follow-up, arriving just in time for Halloween – reconvenes Halvorson, Dunn (on bass) and Ches Smith (drums) for a compositionally ambitious program that draws inspiration from an 18th-century religious fringe. Along with the core trio, it features violinist Carla Kihlstedt, flutist Anna Webber, clarinetist Oscar Noriega, and cellist Mariel Roberts. Oct. 28. Pyroclastic. (Chinen)
Ivo Perelman and Matthew Shipp
The freeform alchemy between Brazilian saxophonist Ivo Perelman and American pianist Matthew Shipp is by now a proven fact: rarely do two musicians achieve a higher flow state in real time. So it's worth paying attention when Perelman proclaims Fruition their most accomplished work yet. Oct. 28. ESP-Disk. (Chinen)
Tyshawn Sorey Trio + 1
Earlier this year, the Newark-born, Philadelphia-based drummer and composer Tyshawn Sorey released Mesmerism: a brilliant foray into swinging form, and the standard songbook, featuring pianist Aaron Diehl and bassist Matt Brewer. What could be better that that? How about a 3-CD set, The Off-Off Broadway Guide to Synergism, recorded live at The Jazz Gallery in New York this spring, with Diehl, Russell Hall on bass, and special guest Greg Osby on alto saxophone? Oct. 28. Pi Recordings. (Chinen)
Chad Taylor Trio
A drummer of adventurous spirit and unfailing instinct, Chad Taylor has been indispensable on the creative music landscape, in projects ranging from the late jaimie branch's Fly or Die to the Chicago Underground franchise he co-founded. His own working trio, with Brian Settles on tenor saxophone and Neil Podgurski on piano, strikes a balance of raw energy and careful calibration on its second album, The Reel. Oct. 28. Astral Spirits. (Chinen)
Joe Lovano and Jakob Bro
Among the many creative artists who honed their skills and confidence on the bandstand with drummer Paul Motian, two leading lights are saxophonist Joe Lovano and guitarist Jakob Bro. On Once Around the Room, they call on bassists Larry Grenadier and Thomas Morgan to salute a mentor whose impact is still felt on the scene, more than a decade after his passing. Bro in particular is captivating, never forcing his sound or ideas. As they swirl, his band mates bask in the sound environments he's able to conjure, as if by magic. Nov. 4. ECM. (Bryant)
Tom Skinner
Before going on indefinite hiatus last month, Sons of Kemet was a must-see in no small part due to the concussive hookup between drummer Tom Skinner and saxophonist Shabaka Hutchings. Lately Skinner has his hands full with Radiohead spinoff The Smile — but his new solo album, Voices of Bishara, reconnects him with Hutchings, alongside Nubya Garcia on tenor saxophone and flute, Kareem Dayes on cello, and Tom Herbert on bass. The music, obliquely inspired by Abdul Wadud and Tony Williams Lifetime, is unwavering in its pursuit of revelation. Nov. 4. Nonesuch / International Anthem / Brownswood Recordings. (Chinen)
Nasheet Waits
Earlier in the pandemic, drummer Nasheet Waits helped keep creative music accessible to New Yorkers at an uncertain time. New York: A Love Story (Bittersweet) was recorded by Jimmy Katz during the outdoor concert series that he and Waits organized in Central Park, at the historic site of Seneca Village; it features a quartet with tenor saxophonist Mark Turner, bassist Rahsaan Carter and vibraphonist Steve Nelson. Two of Waits' three originals here are performed as a medley, "The Hard Way/AW," that sonically calls out the injustices suffered by the Central Park Five just over 30 years ago. Nov. 4. Giant Step Arts. (Bryant)
Myra Melford's Fire and Water
Pianist-composer Myra Melford's recent album For the Love of Fire and Water intersects two of her longtime interests: bands of elite women improvisors and music inspired by the artist Cy Twombly. Following in the footsteps of Tiger Trio (with Joëlle Léandre and Nicole Mitchell) and MZM (with Zeena Parkins and Miya Masaoka), here Melford fronts a band with Mary Halvorson on guitar, Ingrid Laubrock on tenor saxophone, Tomeka Reid on cello and Susie Ibarra on drums. This concert is a rare chance to experience the all-star team in action. Nov. 7. Roulette. (Johnson)
TD James Moody Jazz Festival
There you go, there you go, there you go… to Newark this November, where NJPAC hosts two weeks of shows under the banner of hometown legend James Moody, including Terence Blanchard's E-Collective with Turtle Island Quartet honoring Wayne Shorter and the intriguing duo of Dee Dee Bridgewater with dance whiz Savion Glover. Bethany Baptist Church hosts a vespers service with trumpeter Jon Faddis and a screening of the documentary Oscar Peterson: Black + White; both are free. And Thanksgiving comes early with the Maria Schneider Orchestra before the festival closes with the Sarah Vaughan International Jazz Vocal Competition. Nov. 8-20. New Jersey Performing Arts Center, Newark. (Jackson)
Sarah Elizabeth Charles
For some time now, Sarah Elizabeth Charles has been engaged in a process of reconsideration — about what it means to be an artist, a singer, a composer, an observer of the human condition. Blank Canvas is the latest product of this effort: a sonically sweeping, spiritually searching album featuring Charles' ensemble SCOPE, with musical partners like keyboardist Jesse Elder and bassist Burniss Earl Travis II. Nov. 11. Stretch Music / Ropeadope. (Chinen)
Nicholas Payton
Nicholas Payton's latest for Smoke Sessions features his top-shelf multi-instrumentalism alongside stalwart musical elders Buster Williams and Lenny White. From beat one, the elasticity exhibited by this trio is dazzling. Payton understands the comprehensive greatness of Williams and White as rhythm masters whose eclecticism stretches from the most inside swing to near-psychedelic groove meditations. His chosen material for the group amplifies a common sonic language rooted in the moment, and connected to lessons from the musical ancestors. Nov. 11. (Bryant)
Dan Weiss Trio
Over more than two decades as a working group, the Dan Weiss Trio — with Weiss on drums, Jacob Sacks on piano and Thomas Morgan on bass — has forged its style out of quick-twitch reflexes and an almost telepathic intuition. Dedication, on Cygnus Recordings, explores some heroes in Weiss' pantheon, with pieces titled "For Elvin," "For Andrei Tarkovsky," and with due solemnity, "For George Floyd." Nov. 11. Cygnus. (Chinen)
Jason Yeager
On what would have been Kurt Vonnegut's centennial, pianist and composer Jason Yeager honors the gimlet-eyed novelist with Unstuck in Time: The Kurt Vonnegut Suite. Featuring contributors like tenor saxophonist and clarinet Lucas Pino, alto saxophonist Miguel Zenón and trumpeters Riley Mulherkar and Alphonso Horne, it's a spirited tribute that engages in sneaky ways with the form of Vonnegut's texts. Nov. 11. Sunnyside. (Chinen)
Terence Blanchard
From his scores for Spike Lee's films to his history-making opera Fire Shut Up in My Bones, trumpeter and composer Terence Blanchard has become a premiere storyteller across a variety of mediums. With Gordon Parks: A Empathetic Lens, he pays tribute to the influential American photographer with his electronic band the E-Collective in collaboration with the Turtle Island String Quartet and visual artist Andrew F. Scott. Nov. 12. Penn Live Arts. (Brady)
Patricia Brennan
Rhythm is paramount for any vibraphonist — we're talking about a percussion instrument, after all — but it's rarely foregrounded with the sort of deep intention that Patricia Brennan brings to More Touch. Her second album as a leader is a jostling disquisition on groove, made with a team of aces: Kim Cass on bass, Mauricio Herrera on percussion and especially Marcus Gilmore on drums. The compositions shift easily from in-the-pocket to out-on-a-limb, and Brennan uses electronic effects as a deft enhancement to her enveloping sound. Nov. 18. Pyroclastic. (Chinen)
Avram Fefer Quartet
Saxophonist Avram Fefer pens tunes that are rambunctious and serpentine, falling somewhere on a spectrum between Charles Mingus and Ornette Coleman. Juba Lee is the second outing for a new quartet that adds Marc Ribot to Fefer's longstanding trio with bassist Eric Revis and drummer Chad Taylor. The veteran guitarist is an apt choice, jolting the band with rough-hewn brashness and slippery fluidity. Nov. 18. Clean Feed. (Brady)
Hedvig Mollestad & Trondheim Jazz Orchestra
Norwegian guitarist Hedvig Mollestad has typically focused her combustible energies in small groups, like the trio that bears her name. But on Maternity Beat, she plugs in with the 12-piece Trondheim Jazz Orchestra. As its title suggests, this double album marks an expansion not only in sonic dimensions but also in theme, for a rugged individualist who, by her own account, "used to be reluctant about talking about gender and motherhood in relation to what I was doing as a musician." Nov. 18. Rune Grammofon. (Chinen)
Jason Moran and Alicia Hall Moran
Pianist Jason Moran and mezzo-soprano Alicia Hall Moran have a history of collaboration both within and beyond their Harlem domicile – notably at The Whitney, which presented them in a joint residency a decade ago. Now with Family Ball, the Institute of Contemporary Art/Boston goes a step further: conceived during the pandemic, it's a performance piece whose set design, by Maggie Ruder, recreates the interior of their apartment as a site of creative conflict and sustaining resolution. Nov. 18 and 19. ICA Boston. (Chinen)
Esbjörn Svensson
Esbjörn Svensson, the Swedish artist best known as the leader of e.s.t., never released a solo piano album during his lifetime. HOME.S — recorded just a few weeks before his tragic death in 2008, of a scuba diving accident — captures some of what was special about Svensson's reflective yet dynamic style. Beginning Nov. 17, one day before the album's release, it will be available in audiovisual form on the online platform shortly.film. Nov. 18. ACT Music. (Chinen)
Ahmad Jamal
Emerald City Nights: Live at the Penthouse is the latest archival treasure unearthed by producer Zev Feldman: a series of recordings made by successive versions of the Ahmad Jamal Trio in Seattle, between 1963 and '68. The first two volumes, spanning 1963-64 and 1965-66, find Jamal in spectacular form on the piano bench, marshaling rhythm teams primed to follow his every signal, including one consisting of bassist Jamil Nasser and drummer Vernel Fournier. Nov. 25. Jazz Detective / Deep Digs Music Group. (Chinen)