Album of the Week: Beethoven tackled two ways, by Haochen Zhang and the Dover Quartet
Picture the summit of Mount Everest: a desolate, deoxygenated crag, whipped by wind shear and gashed by ice. No place on our planet goes out of its way to make itself more inhospitable, which lends it an enticing, mystical allure. What was once a metaphor for the humanly impossible has become a vehicle for the most extreme sort of status-seeking: in 2019, when arecord 381 climbers attempted Everest's summit, one viral photo showed a queue of dozens awaiting the chance to take a 29,000-foot selfie.
In the Western canon, Beethoven presents a similar challenge, towering and tantalizing. Many have plunked out Für Elise, but only a brave few have summoned the fortitude, technique and resources to attempt complete accounts of his sonatas, symphonies and concertos. But since his 250th birth anniversary in 2020, new Beethoven cycles have been released in an unprecedented torrent: no fewer than 13 full recordings of his five piano concertos, five of his 32 piano sonatas, six of his nine symphonies, five of his seven piano trios, and five of his 16 string quartets. Like the scene at Everest's tip, these numbers are staggering.
For fanatically committed listeners, processing this Beethoven flurry has been a wearying trek in its own right. Beethoven's scores offer expansive latitude for expression, but as the space fills, interpretive wiggle room comes at a heftier premium, nudging performers ever closer to milquetoast. What should feel like a singular achievement increasingly feels devalued.
So the prospect of major Beethoven projects by two of Philadelphia's flagship ensembles raised my critical hackles. Life in the City of Brotherly Love is rich enough to be exhausting in its own right. What good can come of the home team piling on yet more wanted (but unwanted) aural stimulus? A lot, it turns out.
The Dover Quartet formed at the Curtis Institute of Music in 2008 and has been its ensemble in residence since 2020. That September, the group released the first installment of a complete Beethoven Quartet cycle on the Chicago label Cedille, which now culminates with Beethoven Complete Quartets: Volume 3 – The Late Quartets.
Beethoven composed his "late quartets" — comprising Nos. 12-16 and the Grosse Fuge – in 1825 and 1826, the final two years of his life. At once autumnally reflective and brashly experimental, they lay bare the tectonic contradictions of his harmonic language: epic yet disarmingly intimate; brazen yet devastatingly vulnerable; laden with pathos yet laced with levity. After two centuries of seismic activity — inspiring everyone from Franz Schubert to Aldous Huxley, Carl Sagan to Christopher Walken — they have become hallowed ground, revered as an inflection point not just in an artform but in art itself.
If the members of the Dover Quartet are cowed by the mythos of the late quartets, they take great pains not to show it. From the resounding E-flat major chord that opens the 12th Quartet to the scratchy pizzicato ending of the 16th, the group establishes a lean, unsentimental edge that remains strikingly consistent as this three-disc set is traversed. Even moments of immense tenderness (like the the fifth movement "Cavatina" of the 13th and the third movement "Holy Song of Thanksgiving" of the 15th) and effulgence (the fifth movement Scherzo of the 14th) are met with proportional steeliness and restraint. Their blend – clean but chiseled, sparing in vibrato, and unusual in its deference to the middle voices – signals a monkish devotion to the late quartets as notes on the page, indifferent to the long recorded legacy that precedes them.
Beethoven built the late quartets on top of a labyrinth of counterpoint: twisting fugal riddles peppered with in-jokes and references to both his own music and the music of the past. In this territory, the Dover exercises impressive sensitivity and surefootedness, adopting a tone flinty enough to accentuate the complexities of Beethoven's contrapuntal contraptions, but lithe enough not to be consumed by them.
At the center of the labyrinth lies a fearsome minotaur: the Grosse fuge. Beethoven originally composed it as the finale to the 13th Quartet, but his publisher, concerned that ending the work with a 15-minute long morass of interwoven lines and countermelodies would scare off potential buyers, demanded Beethoven cleave it off and append a new, simpler finale.
The Dover soothes the beast with simmering precision, blending note-perfect elegance, patience and passion. In a recent interview with Cedille's founder, James Ginsburg, first violinist Joel Link explains with characteristic self-effacement that "our approach has always been that the [Grosse fuge] is done the most justice when everyone just goes for it, to try to voice it and have it be clean." This probably wasn't what the composer intended, Link is quick to add. "I think he wanted it to be shocking and a chaotic thing…"
The Dover Quartet's calculated subversion of Beethoven's wishes, real or imagined, is the album's greatest selling point: their spartan, unflashy ethos is exactly what gives their interpretations such refreshing sheen. Beethoven's late quartets are too often framed as a manic series of zeniths and nadirs with little to connect them. The Quartet's disciplined and circumspect approach is more thoughtfully calibrated, reinforcing the throughlines that bind these works not just to each other, but to the continuum of Beethoven's "early" and "middle" quartets as well. Like any good series finale, it leaves you a bit discombobulated in denouement — fulfilled yet craving more. What feeling could be more Beethoven?
Pianist Haochen Zhang is a friend and frequent collaborator of the Dover Quartet, with similarly strong ties to the Curtis Institute, where he studied with Gary Graffman. In 2006, at 16, he made his debut with The Philadelphia Orchestra; three years later he became the then-youngest winner of the vaunted Van Cliburn International Piano Competition.
Zhang maintains a residence in Philadelphia and has appeared regularly with the Orchestra in the last two decades (he was one of the headlining artists of their 2019 Asia tour) — a longstanding rapport that has now translated into a significant recording, Beethoven: The 5 Piano Concertos.
While Zhang's presence with the Orchestra is familiar, this album is steeped in novelty. It is the Orchestra's first commercial recording with Zhang, their first for the Swedish label Bis (which rarely employs American ensembles, let alone those of the Orchestra's prominence), and their first with principal guest conductor Nathalie Stutzmann. Perhaps as a result of these uncharted circumstances, it was recorded quickly and somewhat under the radar, in a three-day sprint last October at Verizon Hall.
Zhang is a Beethoven player of preternatural polish, graced with quicksilver dexterity and an intuitive sense for how to make motifs cohere and melodic lines sing. His phrasing is unfailingly generous and well-mannered, his tempos even-keeled, and, even while making mincemeat of Beethoven's fearsome cadenzas, he refuses to betray even a whiff of ego. The hushed, crystalline cantabile he achieves in the slow movements is reason alone to invest in this set.
But for all their sanguine moments, there is also a raucous impetus behind these pieces. Beethoven wrote the Concertos as a vehicle for his own madcap virtuosity, thrilling audiences with theatrical technique and his prowess as a slapdash, fly-by-the-seat improviser. Sometimes, Zhang is simply too polite.
This is where Stutzmann comes in. She sculpts the Orchestra's sound from the ground up, a power stance built on punchy low string attack, rumbles of timpani, and aggressive stabs of brass. It is the gritty acetone to Zhang's varnish, complementary but uncomplimentary. And though she never quite coaxes Zhang to go madcap, Stutzmann still finds canny ways to push him out of his comfort zone and extract intensity.
The most notable example of this comes in the opening to the finale of the Third Concerto. As he rounds the corner of the Rondo's initial melody, Zhang is taken by surprise. From the shadows, Stutzmann unleashes a cartoonishly ferocious thwack of orchestral restatement. Her stinging jab works: Zhang hits back with a series of palpably agitated arpeggios, creating steam that invigorates the rest of the movement.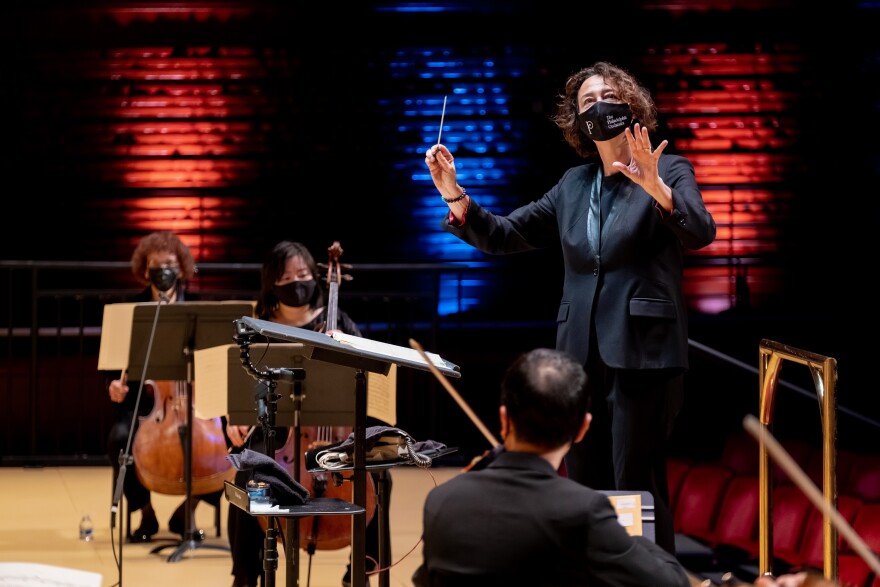 In a media landscape that allows us to go increasingly longer stretches of time without needing to reconcile competing ideas, there's something rewarding yet unsettling about the perceptible misalignment of Zhang and Stutzmann's priorities. This record's appeal is the Newtonian equal, but opposite of the Dover Quartet's admirable lockstep: contrasting visions of Beethoven that upwell from delectable undercurrents of tension into shocking bursts of harmonious disharmony. It also suggests an important moral.
Beethoven's music, as much or more than any other in the Western canon, sits at the nexus of universal and individual. In it, his struggles — physiological, professional, romantic, creative, spiritual — are intimated, sometimes overcome and sometimes not. Through it, our own struggles and narratives are validated, refracted and assuaged.
Not all Beethoven listeners are alike: our experiences differ, and Beethoven's music speaks to them differently, at different times and for different reasons. No new recording will be for everyone — and, as a matter of quantity, many will resemble each other. So be it. These albums amply prove that every recording also holds the potential to be a critical tool: a crampon, ice ax or rope that facilitates someone else's journey to a personal summit. More rewarding than the challenge of listening to them all is the challenge of determining which to pack in your own kit as you attempt to touch the heavens from Earth. How lucky we are that it can be commenced with the mere placement of earbuds in ears in the safety and warmth of sea level.
The Dover Quartet, Beethoven Complete Quartets: Volume 3 – The Late Quartets
Haochen Zhang and The Philadelphia Orchestra with conductor Nathalie Stutzmann, Beethoven: The 5 Piano Concertos.