With 'Agent Orange,' Uri Caine and the Brussels Philharmonic assess a clear and present danger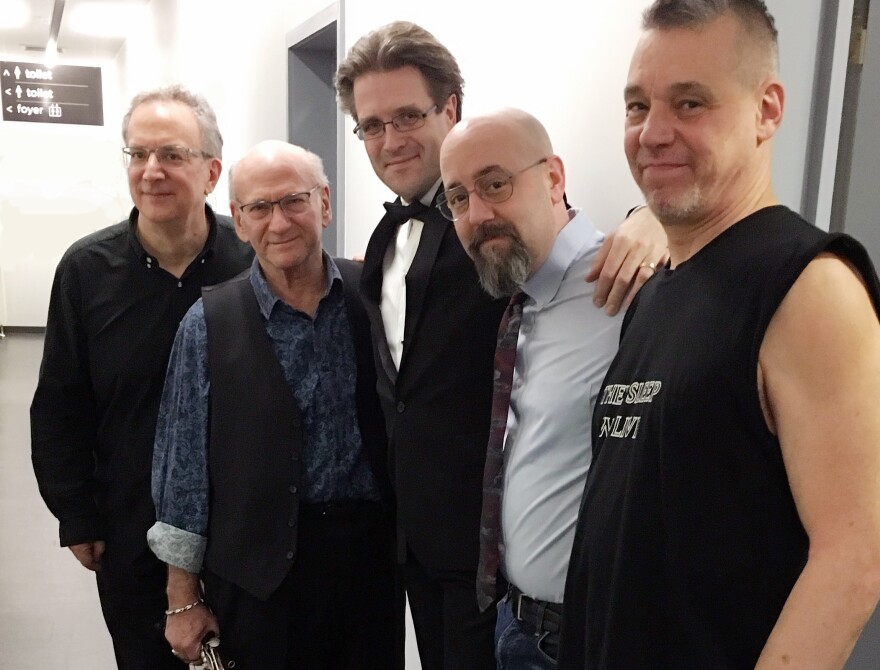 "History doesn't repeat itself, but it often rhymes," Mark Twain is reputed to have said. Another gimlet-eyed American original, pianist Uri Caine, instinctively channeled this axiom when he composed Agent Orange, a commission from the Brussels Philharmonic and two other Belgian cultural institutions. Intended as a commentary on the 50th anniversary of 1968 — a year of cultural and political turmoil, in the United States and in Europe — the piece also prompted Caine to set his sights on contemporary political problems, one in particular.
Agent Orange had its premiere at the Flagey arts center in 2018, as part of the Brussels Jazz Festival. The piece's title invokes not only the toxic Vietnam-era herbicide but also the 45th occupant of the Oval Office, who at that point was halfway through his presidential term. In case that juxtaposition doesn't make it obvious, Caine is unambiguous about his judgment of that individual, who goes tactically unnamed in the piece. Given that this unnamed figure is now the GOP frontrunner in another presidential race even while under indictment, the release of Agent Orange on the Winter & Winter label feels like a timely provocation.
Caine has plenty of experience merging classical form with improvisational practice, though his best-known efforts in that vein have involved forays into the western canon (Mahler, Mozart, Wagner, Bach). He enlists two longtime associates, turntablist DJ Olive and bassist John Hébert, as co-conspirators in Agent Orange, and clears space for a featured soloist: NEA Jazz Master Dave Liebman, whose soprano saxophone delivers smart, dartlike commentary throughout the piece.
For even a casual observer of the political scene, the titles of the 10 parts of Caine's suite will suggest a time capsule. With the possible exception of "Bleach Blues," which may have been titled after the fact, there's no allusion to the pandemic; this is a piece primarily concerned with the moment when a sitting U.S. president stoked and emboldened a white supremacist upsurge, and enacted a policy of family separation at America's southern border. The piece's overture, "Premonitions," a gathering storm of woodwinds, percussion and strings, introduces the idea that these forces have long been stirring in the body politic, awaiting a vector and a vessel.
Caine is an engagingly expressive composer and orchestrator, with a language that can deftly skew Mahler-esque, Wagnerian or Strauss-like without plunging into pastiche. Agent Orange is brashly kinetic, rich with incident, and often cleverly spiked with allusive intent. The title movement, for instance, attempts to evoke a chaotic persona with clashing brass, fluttery piccolos, clattery percussion and spiky violins. At the piano, Caine drops fraught quotations: a military bugle call, Chopin's Funeral March, the main theme of "We Shall Overcome."
While Liebman's soprano embodies a roving perspective, DJ Olive provides some of its more pointed sonic gestures — like the sampled "ahh" of a baby in "The Separation of the Children," which unfolds as somber tragedy. In similar fashion, there are ominous cackles sprinkled through "Fine People on Both Sides," which sets the orchestra on a tumbling, stumbling path. Caine is pursuing a clarity of moral purpose, more than any form of subtlety; the music seems to convey a conviction that subtlety is a luxury reserved for less perilous times.
Because racism and nativism are the twinned subjects of Caine's critique, it's no surprise that Agent Orange also includes "The Lies of the Lost Cause" (an eerily unsettled reflection) and "On the March" (an exhortation gone haywire). A movement titled "Upside Down Bible" — suggesting a notorious photo opp from early in 2020, though Caine couldn't have had that in mind — contains some of the most troubled dynamics in the piece. And "Civil War Fugue," as the title suggests, applies the expository methods of fugue form to the Confederate anthem "Dixie." (Among its shadow allusions are "The Star Spangled Banner" and "Yankee Doodle.")
Everything culminates in "An Uncertain Fate," which begins with a roil of motifs from earlier in the suite, but gradually calms and settles, in the most unsettled way. Caine, as he composed Agent Orange in 2017, was looking ahead into a difficult future that we've all since experienced, as well as the future still to come. The final sound in this final movement comes via DJ Olive: something like a fretting sob, the essence of anxiety. As a convergence of conceptual art and political commentary, this is what Agent Orange has to tell us. It's neither a comforting nor a casual message, but Caine believes it to be a necessary one. The music bristles with that urgency, now as ever.
Uri Cane's Agent Orange is available now from Winter & Winter.