Discover new albums and find out about music, artists, and ensembles here.
Classical Album of the Week: Classical Guitarist Sharon Isbin and the Pacifica Quartet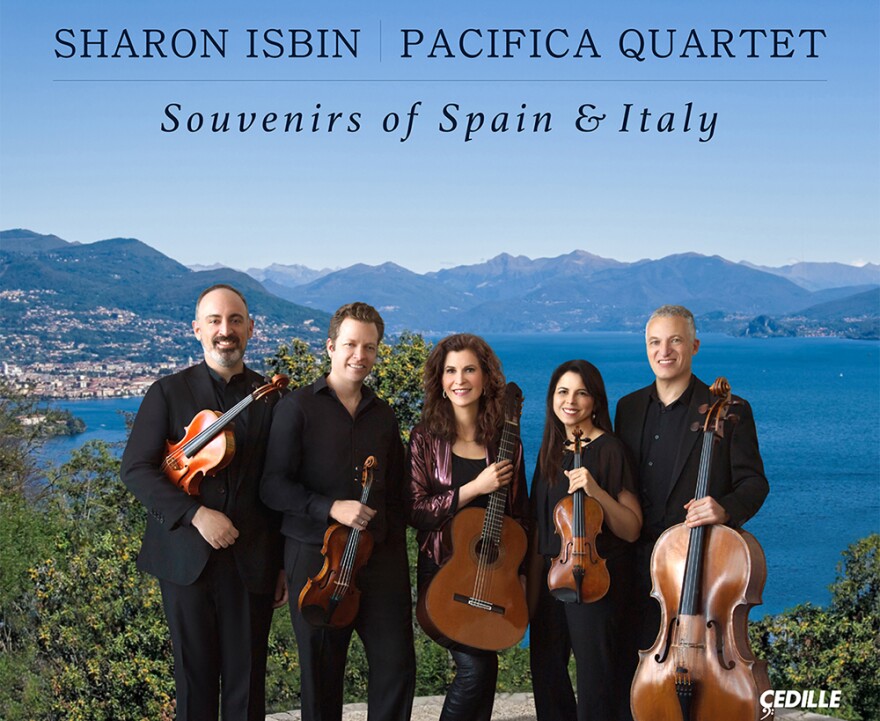 September 23, 2019. If you've ever visited Spain or Italy, you know how the quality of the sun and soil, the wind and warmth affect everything from the food to the art and the music. Especially the music.
Grammy-winning guitarist Sharon Isbin and the Grammy-winning Pacifica Quartet have released a new album, Souvenirs of Spain & Italy, which combines the music of the two countries into a listening delight.
Contribute to WRTI at the $120 level during the Fall Member Drive —and we'll thank you with Sharon Isbin and the Pacifica Quartet, Souvenirs of Spain & Italy.
-sahS-DNG4
The album explores works from the Baroque period to the mid-20th century, and includes a rarely heard work by Mario Castelnuov-Tedesco, the Quintet for Guitar and String Quartet Opus 143. Isbin and the Pacifica play Emilio Pujol's guitar arrangement of Antonio Vivaldi's Lute Concerto in D Major. Luigi Boccherini's Quintet in D Major joins hints of Spanish flamenco with the late 18th-century classical style.
In addition, the Pacifica performs Spanish composer Joaquín Turina's string quartet piece, La oración del torero, Op. 34.
The album came about after the five musicians performed together at the Aspen Music Festival several years ago. Isbin says "We hit it off to such an extent that we decided to tour together. I'm just amazed at how extraordinary they are as a quartet and as human beings."
Pacifica cellist and founding member Brandon Vamos says, "What I love about working with Sharon is her attention to detail, subtlety and nuance, rubato and timing, and her diligence and desire to get things just right."