Every week on the air there's a special focus on one particular jazz album. Check them all out here!
Jazz Album of the Week: Pianist Yoko Miwa Displays Depth and Dynamism on 'Songs of Joy'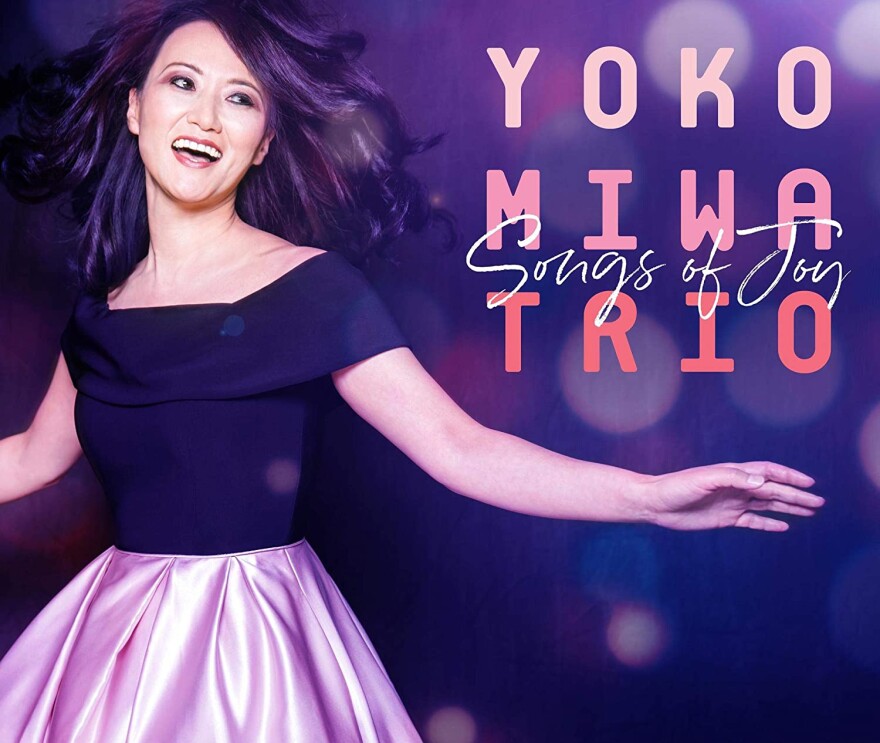 May 17, 2021. Pianist Yoko Miwa moved from Kobe, Japan to Boston in 1997 almost on a lark. She planned to study maybe a year at Berklee College of Music, where she'd won a scholarship, and then return home. Except she made a home in Boston and, nearly a quarter century later, still hasn't left.
Songs of Joy, her ninth album as a leader, speaks to what the artist in her loves most about this country, its chief homegrown musical exports: jazz and rock and roll.
Over 11 tunes with her maximally simpatico trio of Will Slater (bass) and Scott Goulding (drums), Miwa commingles five idiomatically diverse originals with a half dozen covers of American rock and pop classics—from Monk to Led Zeppelin—interpreted with remarkably profound depth of feeling and style.

For her first tune, Miwa takes an iconic page out of rock and roll history, with an august rendering of Richie Havens' "Freedom," the tune that Havens, inspired by "Motherless Child," improvised to close out the opening set of music at Woodstock. Evoking pathos, Miwa's arrangement is also declarative and forceful—think tears mixing with a balled fist.
The seemingly incongruous is a theme here, a concept ripe for probing and exposing. You'll hear it again on "Largo Desolato," the first of Miwa's originals. It opens with a plodding and persistent six-note riff communicating the gradually building anxiety of being lost someplace grand all by yourself—perhaps symbolic of what so many city-dwellers experienced over the course of the pandemic.

"Largo's" opening strikes an emotional chord similar to "The Lonely Hours," another Miwa original just a couple tracks infra built on the repetition of a similarly plodding, similarly forlorn motif. The difference is "Lonely Hours" is a snapshot, a sketch; "Largo," in time, is the whole novel, presenting, at the moment of critical tension, earned catharsis, a bright expression of relief, a long, luxurious musical exhale.
The album's title track is a take on an old Billy Preston tune. Let it not be lost that a bandleader named Yoko is featuring a piece written by a man often referred to as "the fifth Beatle." But the relationship to the Fab Four here is more than superficial. Something I noticed right away was how similar Miwa's take on this Preston tune is to Brad Mehldau's take on Lennon and McCartney's "Blackbird." As with Mehldau's cover, Miwa ratchets up the gospel here, taking us every bit of the way to church. Even her improvisational moments feel very Mehldau-like here; I, for one, can't get enough of it.

Takes on Duke Jordan's "No Problem" and Monk's "Think of One" are also very much worth a listen. The former really swings, with Slater at his bouncy best and Goulding availing himself of ample room to stretch out. The latter is a revelation, a funky and thoughtful interpretation that manages to very perceptively capture the essence of an artist in Monk who's always struck me as the Tim Burton of jazz—always tinkering and playful, ostensibly childlike but also, not so far under the surface, kind of dark.
As for evaluating the breadth of Miwa's artistry, thinking about these two tunes together is instructive. Lots of folks could do the Jordan piece with similar aplomb, and there's no shortage of Monk soundalikes. But to so easily capture the essence of both? Miwa's in select company there.

Select company because a few cuts later, as the album's closer, we get Miwa's treatment of Zeppelin's "Babe I'm Gonna Leave You." One can love both Monk and Zeppelin, as I and many others do. But they're different parts of the musical brain. And yet, there are no onerous border checks in Miwa's consciousness that keep her from crossing from one territory to another almost seamlessly.
Brad Barrett guests on acoustic bass here, and his bowing brilliantly affects Robert Plant's moaning vocals. Miwa is back into Mehldau/Ethan Iverson territory here, and it's amazing because her improvisational aptitude is just as high here as it is on the Monk tune. She gets it all on a subatomic level; it's astonishing. And so is Songs of Joy.