ICON Suggests: Sean Jones Quartet, im.pro.vise never before seen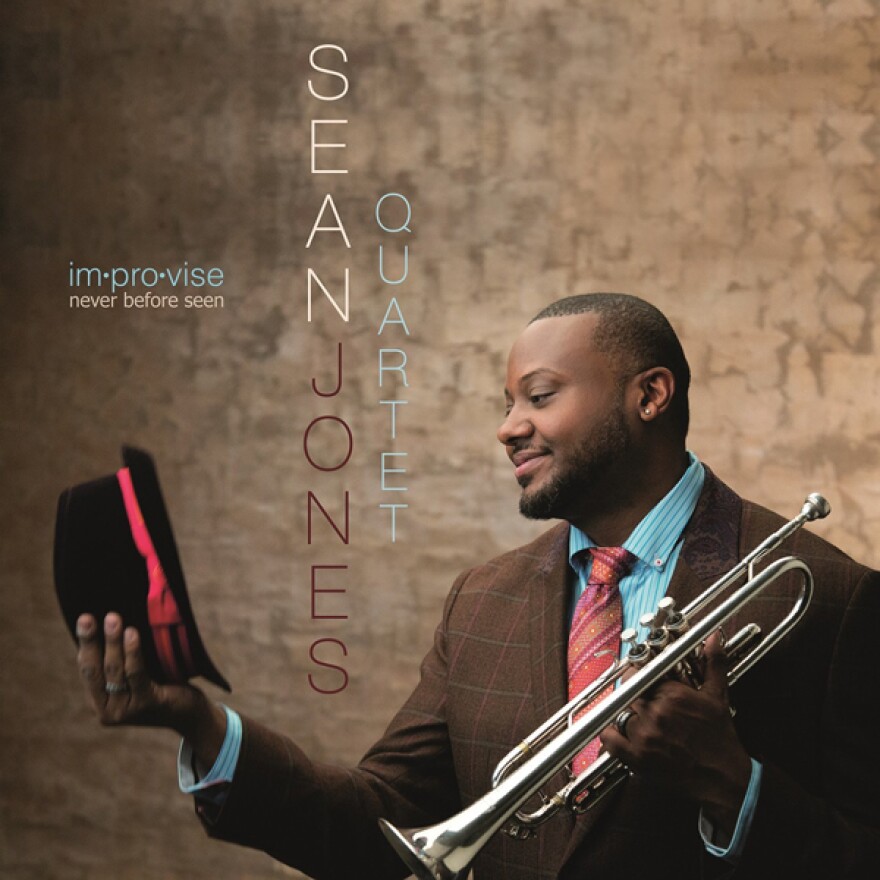 An exceptionally gifted musician and leader, trumpeter Sean Jones has an accomplished track record. As a young man, he turned to jazz after hearing John Coltrane's A Love Supreme. But it was the music of Miles Davis that pushed Jones toward his destiny as a player with the capacity to lead the pack.
You can track his career through six previous solo albums for Detroit's Mack Avenue Records, each of them conceptually interesting, all of them ringing with Jones' clear, sweet voice on the horn. That's in addition to holding the lead trumpet chair for the LCJO until 2010, touring in Wayne Shorter and Herbie Hancock's Miles Davis Tribute Band and most recently, taking a star turn on Dianne Reeve's record Beautiful Life, with an ace solo on Marvin Gaye's "I Want You."

His uniquely titled seventh album, im.pro.vise never before seen, reunites Jones with longtime friends and self-assured improvisers—pianist Orrin Evans, bassist Lucques Curtis and Obed Calvaire on drums. The band recorded the date old school style, playing together live in the studio.
There were no overdubs or unnecessary tinkering afterward and the result is breathtaking. There's gangbuster swing that takes no prisoners ("60th & Broadway"), mesmerizing ballads ("The Morning After"), and emotive storytelling (his magnificent muted horn on "How High The Moon" along with a nice feature for Curtis' precision bass playing)—all of which signifies a step up from his earlier fine work.
im.pro.vise has flow, something that's often remarkably missing from jazz albums, and the tunes here form a cohesive whole, all of which is played by a very tight, unified group who listen to each one another. Jones spreads his formidable talent evenly, forging a blistering attack on "Dark Times," a song that reflects on a period of struggle and uncertainty for the trumpeter, and he digs deep on the melodic swinger "I Don't Give A Damn Blues," adding a pinch of New Orleans flavor.
Bassist Christian McBride and Al Pryor expertly produced im.pro.vise, but I have to call out Orrin Evans as the date's MVP. His bold solo turns and phrasing help lift this album to something truly great. Evans is having a banner year himself with two A+ solo records out, and numerous gigs recording as a sideman. Jones knows what he has with Evans, Curtis and Calvaire, and the quintet and its leader gives us a bounty of moods, style and feeling. I haven't heard a more engaging or beautiful record by another trumpeter this year.
http://youtu.be/tXvxGI96O1Y
This article is from the August 2014 edition of ICON Magazine, the only publication in the Greater Delaware Valley and beyond solely devoted to coverage of music, fine and performing arts, pop culture, and entertainment. More Information.