Watch and Listen: Pianist Haochen Zhang Plays Schumann, Brahms, and More! Live from WRTI 90.1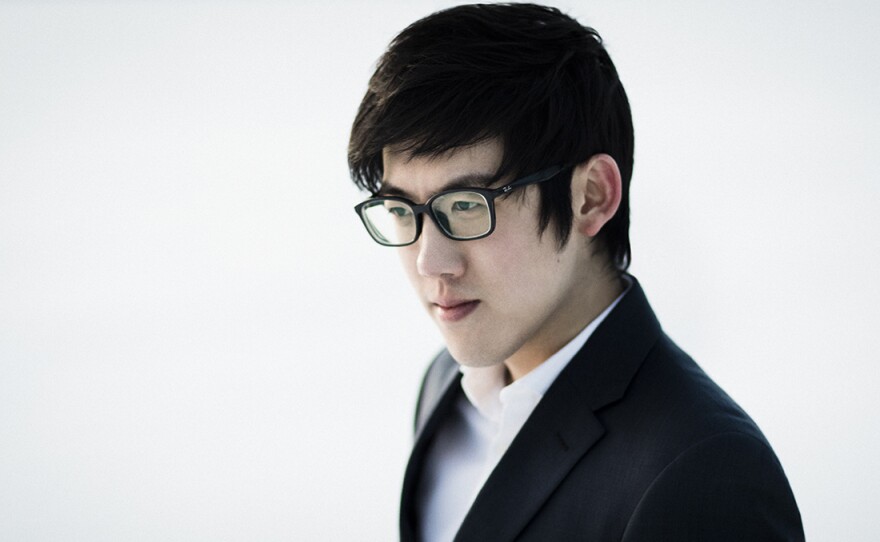 Pianist Haochen Zhang
Courtesy of the artist
Pianist Haochen Zhang in the WRTI 90.1 Performance Studio
Praised as an artist of "rare talent"(Gramophone) whose playing is "dazzling' (The Washington Post), Chinese pianist Haochen Zhang visited the WRTI 90.1 Performance Studio ahead of his return engagement as soloist with The Philadelphia Orchestra in October, 2019.He plays some of his favorite recital pieces before his performance of Rachmaninoff's Piano Concerto No. 2 with The Philadelphians. WRTI's Susan Lewis is host.
Full performance:
Zhang won first prize in the 2009 Van Cliburn International Piano Competition when he was just 19. The Curtis graduate now performs all over the world, and has a new recording of piano concertos by Tchaikovsky and Prokofiev.
WRTI PROGRAM, with comments by Haochen Zhang:
Schumann: Humoreske in B-flat Major, Op. 20, 1st movement: "Einfach" (Simple)
"In my opinion one of Schumann's most intimate and also original compositions. It is one of the pieces on the program for my current recital tour in Asia."
Brahms: Intermezzo in A Major, Op.118, No. 2
"I have always loved reflective and introspective music, and thus have always loved the late pieces by Brahms.
Debussy: Feux d'artifice (Fireworks)
"One of the most imaginative piano pieces by Debussy."
Horowitz: Carmen Variations (based on the Gypsy Dance from Bizet's Carmen)
"A nerve-racking encore piece to bring some excitement and contrast to the preceding introspective/delicate music."
More about Haochen Zhang:
Born in Shanghai, China, in 1990, Haochen Zhang began playing piano at 3, and gave his first recital at 5. At 7 and again at 9, he won first prize at the Shanghai Piano Competition, and at 12, he won the 4th International Tchaikovsky Competition for Young Pianists. In 2005, he came to Philadelphia to study at The Curtis Institute of Music.
Performance of Brahms' Intermezzo in A Major, Op. 118, No.2:
Since his gold medal win at the 13th Van Cliburn International Piano Competition in 2009, Haochen Zhang has toured extensively in the United States, Europe, and Asia. In 2017, he received the Avery Fisher Career Grant.
His 2017 debut solo album included works by Schumann, Brahms, Janacek, and Liszt. Haochen Zhang plays Rachmaninoff's second piano concerto in C minor, Op. 18 with The Philadelphia Orchestra at the Kimmel Center on October 4 and 5, 2019. He also tours with The Philadelphia Orchestra with the same work in Japan in early November.
On Haochen's debut concerto album, released in 2019, he performs Tchaikovksy's first piano concerto and Prokofiev's Second Piano Concerto with the Lahti Symphony Orchestra, led by Dima Slobodeniouk.