Every week on the air there's a special focus on one particular jazz album. Check them all out here!
Jazz Album of the Week: Joe Chambers' 'Samba de Maracatu' Honors His 1960s Blue Note Roots
Multi-instrumentalist Joe Chambers made his name as a drummer on some of Blue Note Records' most celebrated albums of the mid-to-late 1960s. But it's his vibraphone playing here—bobbing and weaving in a synchronized courtship with pianist Brad Merritt worthy of David Attenborough narration—that's foregrounded on Samba de Maracatu, his first release as a leader for the famed jazz label since 1998's Mirrors.
Heavy air and tropical mystery permeate the title track. But while references to rhythms native to northeastern Brazil are clear, Chambers' composition contains a multitude of reference points: The immediacy of Freddie Hubbard's "Crisis" and the joyful levity of Ahmad Jamal's sessions with vibes cohabitate tenuously, which is bad for marriage but good for music. There's also something sleep-deprived and delirious and slyly sinister afoot in this samba, something Terry Gilliam-esque that's warmly disturbing and not easily brushed aside.

Hubbard isn't the only Blue Note legend Chambers channels here. His take on Horace Silver's "Ecaroh," a tune that's been a regular part of Chambers' repertoire for a decade, is hypnotic, especially the prologue of solo vibraphone.
The feeling of listening to this one is like perceiving something very familiar play out and viewing it through a decidedly alien patina. Chambers, meanwhile, adds to that feeling by pretending to be everywhere at once, overdubbing vibes and drums; Merritt and bassist Steve Haines seem content to remain un-cloned and bound by the laws of space and time as we understand them, though the former does offer a rich yet breezy solo through the tune's languid mid-section. Before too long, though, the guys reprise Silver's Latin-flavored, major-minor theme and descend into a wistful and bluesy denouement.

Two tracks down is "Rio," a tune implicating an entire wing of Blue Note hall-of-famers. Originally written by Wayne Shorter for Lee Morgan's The Procrastinator, Morgan's version featured a vibraphonist who'd become Chambers' most consistent Blue Note collaborator, Bobby Hutcherson.
The version here is slightly more free-form, more of an improvisational showcase for Chambers and Haines and less reliant on the bossa nova rhythm of its predecessor—that is until the last minute or so when Merritt rejoins and restates that old familiar theme alongside overdubbed bossa percussion from Chambers. As the album's closer, it's a perfect distillation of the album's prevailing climate: consistently inspired, intermittently Brazilian.

Of course, when it comes to inspirations, few loom larger for Chambers than Hutcherson. Chambers played drums on several Hutcherson-led albums from 1965 to the early '70s, even composing the title track for 1968's Spiral; it's from that record that Chambers has plucked "Visions." Deliberate, haunting, and pensive, this is a musical depiction of how people sat with uncomfortable feelings in the '70s—a quiet conversation pit, if you will. That is, until the final minute, when aroused from their reverie, the trio hits upon a triumphant revelation. But, like conversation pits and mood rings, the feeling of exaltation was not meant to last; it was but a fleeting vision.

The common misconception is that Chambers took up playing vibes because of Hutcherson—and no doubt the latter played some kind of role, conscious or not. But the man who really encouraged Chambers to pick up the mallets was Max Roach.
Chambers composed "Circles" for M'Boom, Roach's all-percussion band of the 1970s. And in his infinite generosity, he's prepared his latest take on "Circles" two ways for us, both with accompaniment and without. For the former, see the cut from the record; for the latter, check out Chambers' exclusive performance live from WRTI's Performance Studio, where, wielding mallets from Milt Jackson's signature line, Chambers pays homage both to Bags and Roach with a solo performance that begs you to drop everything—for just a minute or four—and listen.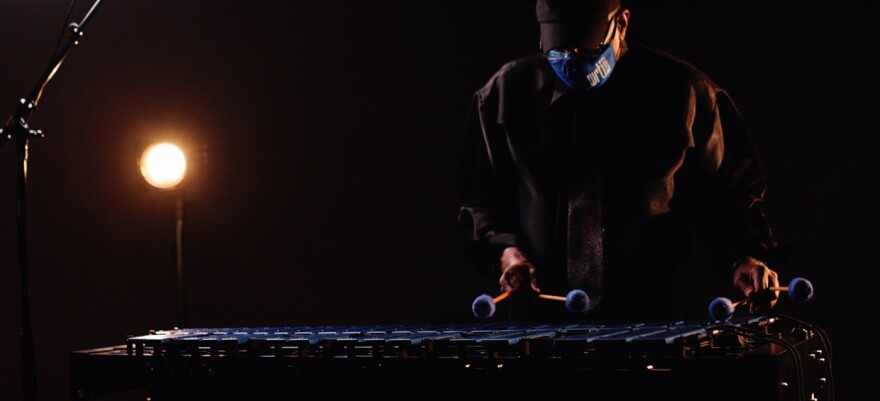 Listen to the conventional—the "You and the Night and the Music" here is the quintessential opener; propelled by Haines' walking bass lines, it's clean, precise, familiar, and betrays very little of what's to come. Listen, also, to the unconventional—"New York State of Mind Rain" reunites Chambers with Nas, a pair immortally linked when D.J. Premier, a producer on Nas' Illmatic (1994), thought to sample Chambers' "Mind Rain" for that album's "N.Y. State of Mind." Whatever your take on sampling in general, it cannot be denied that scores of '90s adolescents have migrated to Joe Chambers' YouTube page as adults, and it's all to do with Illmatic. The two artists are forever linked, and, here, rhymes from MC Parrain strengthen the nexus between the two tunes and the two worlds.

And, finally, listen to guest vocalist Stephanie Jordan turn "Never Let Me Go," a tune made famous by Nat King Cole, into a sultry treatment worthy of a James Bond soundtrack.

A less-charitable commentator might call an offering as diverse as this one "unfocused" or "pastiche." But I'd argue that Samba de Maracatu is, more than anything else, a comprehensive representation of a musicality that the 78-year-old Chambers has cultivated over a lifetime.